The Pearl Roadshow series,  an inexpensive drum set perfect for beginners.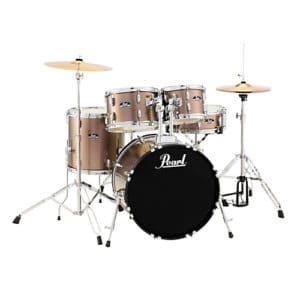 If you're in the market for a new beginner drum set, you might be wondering what to look for in a beginner drum set. Well, among other things, I typically look for a balance of quality and cost, with a bit of practicality sprinkled in.
The Pearl Roadshow sets check all of the boxes of what a great first drum set should be!
Pearl is hands-down one of the best drum manufacturers on the planet. This, along with the value of what you get with this package make it a great entry-level drum set for beginning drum students, both young and old alike!
There are a variety of finishes and configurations available and best of all, it's a complete setup which doesn't require you to purchase anything extra to get started!
The Roadshow Series Comes In Four Exclusive Covered Finishes.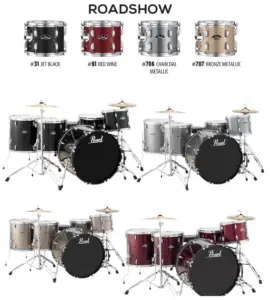 No matter if you like the classic look of black, or want to expand your horizon into some of the more exotic metallic finishes, the options available with this series of drums has you covered:
Jet Black
Wine Red
Charcoal Metallic
Bronze Metallic
Everything You Need To Get Started…Everything!
Here's what you get with this setup:
9ply 7mm drum shells

Double braced cymbal stand and hi-hat stand
Bass drum pedal
Drum Throne
2 pair of drum sticks
1 drum key
Pearl professional stick bag
2 year limited warranty
…and two cymbals!!!
What? Cymbals are included!?
Most entry-level drum sets come with hardware, but they usually don't include cymbals. This kit comes with a set of Pearl branded 14″ hi-hats and a 16″ crash/ride, which is absolutely amazing.
---
Several Configurations Available
Pearl has done an excellent job of creating several distinct versions of the Roadshow drum kit.
5 Piece "Fusion" Kit:
Probably the most popular is a classic 5 Piece

configuration, which is perfect for new and
experienced drummers alike. At only $449, it's a steal as well!
4 Piece "Jazz" or "Bop" Kit: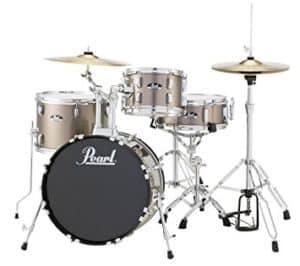 This 4 Piece

version features slightly smaller drum sizes, which means it takes up much less space and can be transported easily. Don't let 'smaller' fool you though. This kit setup sounds great and can always be expanded in the future. Best of all, it comes in at only $379!
---
TIP For Parents: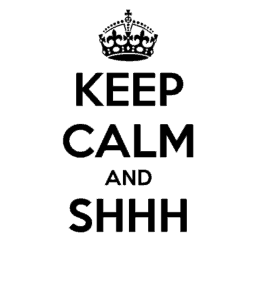 If you have a budding drummer in your household and want to retain your sanity during those long hours of practice, here are two tips on additional gear that will make for a much calmer household:
Mesh drum heads mimic the feel and response of a normal drum head but dramatically reduce the volume of any drum they are put on.
Zildjian L80 Low Volume Cymbals are specially designed cymbals that, much like the mesh heads, feel just like real cymbals but at much lower volume levels.
Frequently Asked Questions (FAQ) – Pearl Roadshow Drum Set
Q: Does a drum key come in the box?
A: Yes, a drum key is included, allowing you to assemble and tune the kit out of the box.
Q: Does it come with a drum throne?
A: Yes. A throne is included so that you don't have to use your dining room chairs to sit behind the kit.
Q: Would this Pearl Roadshow kit be considered too small for an adult?
A: It is a full size kit, but some configurations are smaller (what they call 'fusion') kits, perfect for adults and kids alike. Many drummers use kits of this size as a smaller travel kit as it easily fits into a car. There aren't any sound differences though. With proper tuning, this kit can sound like a monster!
Q: Does it come with cymbals?
A: Yes! One pair of 14″ hi-hats and one 16″ crash/ride.
Q: How many boxes does it come in?
A: Two.
Q: What extra stuff do I need to buy with this kit?
A: Nothing. It is a complete beginner's setup including cymbals, throne, stick and a stick bag. You may down the road want to upgrade or add cymbals and other components.
Q: What is the brand of the included cymbals?
A: They are Pearl branded cymbals.