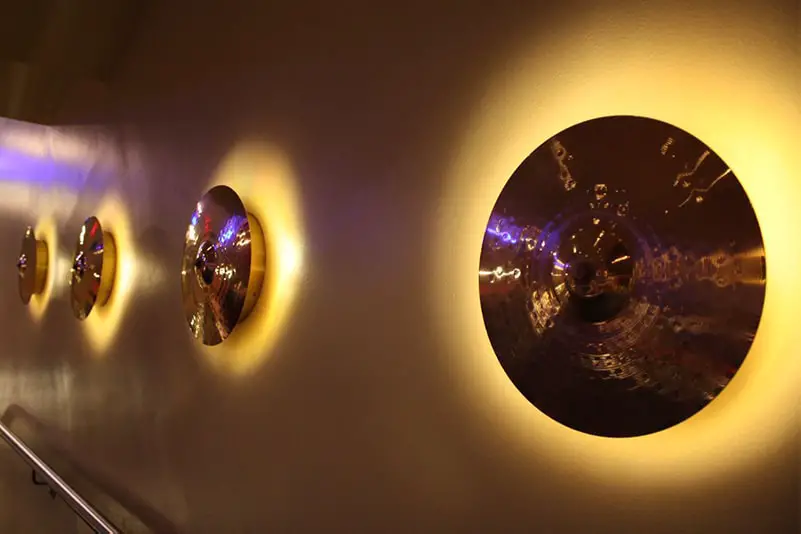 At first, the idea of decorating your house with drum-related decor can seem a bit hoaky – but done tastefully, percussion instruments can add a unique flair to the interior of any home.
So, in this article I'd like to present you with 20 clever ideas for decorating your home with drums. These ideas involve re-purposing various drums and hardware, and will hopefully serve as a source of inspiration for you to get started:
Bookshelves
Kitchen and General Utility Shelves
Bedroom Storage Shelves
Wine Racks and Ice Buckets
Coffee Tables
Side Tables
The TV and Home Theater Stands
Cymbal Lights
Drum Aquarium
Drum Stick Decorations
Drum Stick Shelves
Drum Stick Lights
Drum Indoor Garden
Drum Key and Mail Holder
Drum Grill
Drum Sinks
A Drum Mini Fridge
Drum Stand Table
Drum Fan Cover
Drum Dog Bed
Bookshelves
While round frames typically don't make the best use of space, a strategically placed set of drum shells, mounted against the wall on their edge can make a pretty stunning focal point upon which to hold, not just books but other trinkets as well.
By adding a few shelves to each shell, you can further make the best use of the space. You may also want to consider cutting down the depth of each shell so that it doesn't protrude from the wall too far. Another option would be to simply set the drum set up in a corner of the room without any drum heads on it and turn each tom on its side so that you can store your items within each shell.
Kitchen and General Utility Shelves
The kitchen is always in need of extra storage place, and the corridor or living room can still do with an attractive space to place your frames, vases, etc. You can create different kinds of shelves using drums. You can cut a long tenor drum from the side, and insert two shelves to act as a mini wardrobe. For easier access and the illusion of space, you have a bass drum with both the top and bottom removes and shelves inserted to hold cups, photos or towels.
Bedroom Storage Shelves
The bedroom is also another place that could always use extra space. A bass drum can have one of its heads removed, be repainted to match the bedroom colors and serve as the dirty clothes bin. You can store clothes and sheets and toys here for easy access. You can also borrow the bookshelf design and have three drums attached to a stand as storage for dolls for your girls.
Wine Racks and Ice Buckets.
For the wine and whiskey lover, you want your best collection to be safely stored, and also easily accessed. Instead of stuffing bottles haphazardly on shelves, go ahead and pick from a range of designs with a bass drum. You can cut several holes slightly larger than the diameter of a wine bottle into the side of a bass drum shell, adding some support structures inside to hold the bottles securely in place. Alternately, you could also remove one of the heads and construct a square grid pattern, large enough to hold a few bottles inside the drum. You are really only limited to your imagination here in terms of construction, as well as decoration. Do you have a large collection of corks lying around? Why not use them around the outside perimeter of your new drum wine rack?
For an ice bucket, take a smaller drum shell and line it, either with some sort of plastic or several coats of clear sealant. This will prevent melting ice from penetrating the wood of the drum shell. You can then also construct a lid from various materials such as wood, glass or plastic.
Coffee Tables
Due to their central position, coffee tables are an excellent focal point for any space, making them excellent candidates for using drums. They can set the theme for your design plans. With a bass drum or a couple of medium-sized toms turned on their ends, you get the chance to play around with the color of the shell, as well as options for the table top. A basic but still attractive design would be to remove the top drum head and place a glass or wooden round surface attached to the drum shell. A glass top offers a unique view inside of the drum. Another option would be to remove all of the drum's hardware and place a light fixture inside of the drum, allowing light to escape from the various holes left behind. Finally, you may also consider cutting through the drum, creating a table that rests on its side with a top on the cut ends of the shell.
Side Tables
Side tables are a handy thing to have around in the living room, kitchen, dining area, and even the bedroom. Drums come in various sizes, so the options for height and circumference are endless. To accomplish this, you can use the same designs as the coffee tables section above, or get even more adventurous due to the smaller size drums you'd use for this application. For example, your side table could have some additional shelves attached for extra storage. You could also have the entire end table mounted on a drum stand to achieve the height you're after. Another interesting take would be to have the drum with a large cymbal for a base. The options for design and materials are endless.
The TV and Home Theater Stands
Ever since large tv and stereo components gave way to more contemporary units that save space and are easy to customize, you have an endless choice on how your TV and speaker system is set up. How about using a set of drums to hold all your electronics in one place. Depending on the number of gadgets you have you can start with a set of three drums set on top of each other on their sides with the top drum having a flattened side to hold the TV. Or you could wall mount your TV and use one larger drum with shelves built in to hold your components.
Cymbal Lights
Old used cymbals can make excellent light fixtures, which can draw someone's attention to your ceiling lines, much the same way that chandeliers do.
You'll need to decide if you are going for a vintage look or a bright, shiny look. For the former, you won't really need to pay much attention to those old cymbals before creating your fixture. For the latter, spend some time polishing the cymbals before proceeding. You may decide you want to use a power buffer to get all of the scuffs and patina off of the cymbal.
Next, you'll need to decide one of three approaches:
Direct Lighting: Use the cymbal as a more traditional lamp shade by taking advantage of the already existing center hole and mounting the instrument on top of a lamp. You could also source a simple bulb fixture and simply run the wire through the center hole before hanging the fixture.
Indirect Lighting: In this case, you'll be using the cymbal to deflect light upwards towards the ceiling. For this approach I would definitely recommend polishing the bottom side of the cymbal to maximize light reflection.
Chandelier: By combining multiple smaller cymbals, you can create the effect of a larger chandelier and create a main focal point for a room. It might be interesting to mix both direct and indirect lighting approaches.
Drum Aquarium
To pull this off will require a bit of effort, however the payback of having a round aquarium in your home is well worth the effort. There are a couple of variants I can suggest here, but you are only limited by your imagination.
Acrylic Shells: If you are wanting to mimic a more traditional tank, you can source an acrylic shell from a drum parts supplier. They come in many different colors, but clear white is probably the best bet. My recommendation here would be to get a new shell which hasn't been drilled into yet. You'll then want to epoxy a bottom onto one of the open ends of the shell and will likely need to rig something up for the top of the aquarium in order to hold the lights and pump.
Wooden Shells: This is a bit trickier as you'll want to do some water proofing before proceeding. Additionally, wood is generally not transparent, so you will be turning this shell on its side (almost like a wheel) and displaying your animals from one of the shell openings. It might be an interesting experiment to use traditional drum hardware and heads, but waterproofing all of the drilled holes with gaskets in order to achieve the effect of having fish in a drum!
Drum Sticks Wall Decoration
Drum sticks are another part of drums you can make use of to add an artistic touch to your room. There are several designs you can use. Think of creating a rack horizontally or vertically with some coloring or any pattern on them. Alternatively, you can lay a small wooden frame below them attached to either a full drum frame or a semi-circle and arrange the drum sticks as a musical frequency for a further artistic touch.
Drum Stick Shelves
Drum sticks can also serve a more practical function than just decoration too. You can create shelves with them. To do so, line a dozen or so sticks up side by side and use hardware of your choice to bind them together. You may decide to cut the length down, depending on the depth of the shelf you are looking for. Then, get some wall brackets and you're in business! These shelves create a unique yet multipurpose storage space that does not look out of place anywhere in the house.
Drum Stick Lights
While cymbals and drums create great lampshades, you can use drum sticks to create the holders and stands for the table top and bedside lamps. You can have them either set vertically in a group or create an almost spiral pattern by placing them slanting in a circle from the base to the top of the lamp. You can also add a bit of glamour by having the bottom as a cymbal attached to a circular wood board.
Drum Indoor Garden
Flower vases are small, and when you go for larger clay pots and basin for your planters, they dull quickly and are also fragile prone to weakening over time. Plastic and other recycled options all lack the allure you want for a garden or planter. Thankfully, with drums you get the charm and durability and also the advantage of having various options of customizing.
If you are planting just a few herbs, a single drum will do as a planter. If however you love your plants and want as many as you can get, you might think about turning a full drum set into matching planters. The various shells can be mounted individually or as a set on a single stand with the drums attached by various brackets. Climbing plants will also thank you for the stand and various levels to hang on.
Drum Key and Mail Holder
Mail can be cumbersome sometimes, especially those pieces which you need to keep around for a while. The kitchen door provides a good place to attach a cut section of a small drum to hold it there. Furthermore, the lugs attached to the side of the shell can be a good place to hang your keys, though you may decide to add some hooks for further options. You can even engrave a small greeting message on the side or add beads just for extra touch.
Drum Grill
The cooking space does not get spared the beauty and practicality of drums either. For this project, you will need to use metal shell drums (NOTE: DO NOT USE WOODEN OR ACRYLIC DRUM SHELLS). Once you remove all of the unnecessary hardware, simply find a circular grill top, which are readily available at grocery and hardware stores.
To construct the grill, first make sure that you have a suitable surface upon which you can make a fire. My recommendation would be some sort of outdoor tile or a prepared dirt bed. Make sure there are no flammable items in vicinity. Next, simply set the metal drum shell where you plan on grilling, add some fuel like charcoal and rest your circular grill grate on top. Bon Appetite!
Drum Sinks
The coolness of drums can be transferred to your sinks. Yes – you heard me right. The sink where you wash your hands. You'll definitely want to work with a plumber on this project, but by using the shell as the outside decoration, you can either set a traditional ceramic sink inside of the shell, or have someone create a custom sink inlay into your shell to create the illusion that you're washing your hands in a Slingerland tom tom!
Drum Mini Fridge
Surprise your guests by having them reach into a bass drum to grab a beverage! You'll likely need an electrician's help to complete this project, but add some legs or a set of wheels and you'll have a super unique fridge to play around with. I'd pick either a small bass drum or large floor tom for this conversion and you'll also want to source a mini fridge from which the components will be pulled.
Drum Stand Table
For a more contemporary and chic look, use drum stands to create an attractive and adjustable coffee table. For this, you'll need a table top, the bottom of a cymbal stand and some additional mounting hardware to attach the two.
Drum Fan Cover
Fans are at times very crucial in the house, especially in small rooms. The problem is that many of them aren't designed to be appealing to the eye. You can change all of that by removing the plastic or metal shroud they have and replace it with a drum shell that can accommodate the size of the fan. To go a step further, why not mount the whole thing using a drum stand to complete the look.
Drum Dog Bed
Dogs like to have places to curl up for a nap though it's not always attractive to have a traditional dog bed in your living areas. Why not use a drum to crate a cozy place for your K9, while at the same time creating a unique piece of art. One of the most unique approaches I've encountered is to leave the bottom hardware on the drum, but cut the top of the shell down to a height appropriate for your dog. You can even cut a small section lower than the rest so your furry friend has not trouble getting in and out. Now, add some cushioning (it could even be that dog bed you wanted to hide) and you're good to go!
In Conclusion
Whether you're on a budget or not, if you are thinking about decorating your house, you'll want creative ways and items to help you. Drums and percussion instruments can add a unique flair to your home and especially if you're a drummer, can say something about who you are. Not to mention that they come in many sizes and colors, making them quite versatile. Hopefully, these ideas get your creative juices flowing.
Related Topics:
Can I build furniture out of old drums? Why of course you can! In fact, I wrote a whole article about this very topic in which you'll get all sorts of ideas for how to create unique pieces of furniture for you home.