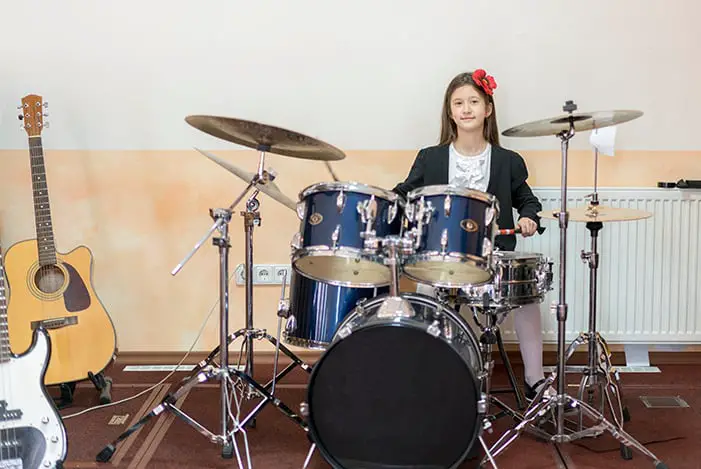 It goes without saying that cost is a huge factor in being and becoming a drummer, as gear isn't cheap. After many years of advising students on first-time gear purchase, I decided to put some of that knowledge into this article so that you know what to expect.
A decent drum set for beginners costs between $400-$500, with junior drum sets starting as low as $150 and higher-end beginner sets topping out at around $800. Most of these sets include hardware and a basic set of cymbals, though that is not always the case. I would plan on spending no less than $400 for a decent kit.
All of that said, it is a pretty deep topic and so in the following few sections, I'd like to break my analysis down for your a bit so that you can be as informed as possible before heading to your local music store.
Drum Set Types And Their Price Ranges
It is important to first understand the types of drum sets which are available on the market. In this section, I'll explain what is available from the very basic to most advanced setups and their corresponding price ranges.
Junior Drum Sets
This category of drum set is meant for absolute beginners of a certain size – namely, kids! They are essentially scaled down versions of adult drum sets which most 5-10 year olds can fit nicely behind.
This is important because young children usually have a hard time sitting comfortably behind larger, adult-sized drum sets and therefore tend to build bad playing habits right out of the gate simply because they are having to move unnaturally just to be able to play the thing!
Aside from being good for kids, they are also great for parents because they are a relatively small investment starting out. The prospect of spending a lot of money for something which may turn out to be a hobby is not too exciting for any parent.
All of these kits typically come with everything needed to start playing including a cymbal or two, a drum throne (seat) and all the hardware necessary to set them up.
Quick Tip: Look For The Hi Hat

I've noticed many 'junior drum sets' on the market which are basically a collection of drums and a cymbal. For anyone taking drum lessons, this just won't do and amounts to wasted money! LOOK FOR KITS WITH A HI HAT INCLUDED, which means you'll be buying a junior drum set that is actually usable as a drum set!
Junior kits start at about $150 and range up to $400 (all with a hi hat included of course). A good, middle of the road junior kit from a reputable manufacturer is this Ludwig Quest Love Pocket Kit

, which is available in 3 different colors.
Full Size Beginner Drum Sets
If you're shopping for someone older than 9 or 10, but still don't want to shell out gobs of money for a drum set, then this is the section for you. Much like junior drum sets, these full size drums typically include everything you'll need right out of the box. This includes an inexpensive set of cymbals, sticks, hardware and throne.
While cymbals are included with most of these kits, it probably goes without saying that they aren't going to be the best cymbals in the world. When making a purchase decision on one of these kits, definitely pay attention to what cymbals are included. If they are from a major cymbal manufacturer (Zildjian, Sabina, Meinl, etc), then you're probably in good shape. If they are from a no-name brand – tread lightly as you'll be more likely to have to replace these instruments sooner rather than later, mostly likely due to their durability.
Most major manufacturers have an offering like this and while some are definitely better than others, you'll be able to find a very decent setup in this category for right around $500, with some higher end options topping out around $800.
For my complete thoughts and recommendations on full-size starter drum sets, visit the Drum Set section in my Recommended Gear page

.
Intermediate Drum Sets
Let's say you or the drum student in your family has been at it for a few years…or enough time for you to know they are serious about their craft. As such, it might be time for an upgrade.
While there is no 'official' distinction in the market for an intermediate kit, I've included it here as a brief primer for what you can expect as you go up in price range.
IMPORTANT – Cymbals Sold Separately: One of the biggest distinctions with higher priced kits is that they often do not include cymbals. I know this seems counter intuitive because you'd think they would at a higher price point. The logic here is that if you are shopping for one of these kits, you've likely developed a preference for what you want and are therefore more inclined to want to select your own cymbals based on the sound that you're after.
Intermediate kits will usually have a better build quality and be made of higher-end materials for better sounding shells and sturdier drum hardware. And while these kits will usually still include hardware, you'll likely need to shop separately for cymbals, a drum throne and maybe pedals as well. Again, the theory being that if you're in this market, you'll likely have opinions on these products.
If hardware is not included in the kit, then you are purchasing what's called a shell pack. This is also quite common and means that you'll be on the hook for all of your own stands/hardware, but also usually results in higher quality instruments.
I would classify kits in the $800-$2,000 range as being in this category, but do keep in mind that you might be making extra purchases here, depending on what is included and what you already have in your collection.
Professional Drum Sets
I won't spend a lot of time here as this article is primarily geared towards beginners, however this category is what dreams are made of and I felt it couldn't be ignored.
The brands which come to mind for this category are iconic: DW, Pearl, Tama, Ludwig, Gretsch… The list is relatively long and distinguished. That said, it is most likely that what you are buying in this category typically has these things in common:
You're likely buying a shell pack
Most of these kits are made from maple or some other exotic wood known for its musical resonance
Most have an element of hand-made manufacturing process
Premium finishes including lacquer or paint
Customization from the factory
Depending on configuration and options, $2,000 and up is definitely what you can expect your price tag here to be. A lot of DW kits for example will land in the $5,000-$6,000 range for 5 piece shell packs.
But, if you are a professional drummer doing a lot of recording and touring, it tends to be a small price to pay for the sound quality and durability you get in return.
Choose The Right Kit For Your Application
There are a few categories of questions you can ask yourself when confronted with a drum set purchase decision which will help you narrow it down pretty quickly.
1) Junior or Full Size?
The first question to ask yourself when considering what type of kit to purchase is, "What is the size of the person playing the kit". This will quickly determine whether a junior drum set is necessary, or whether a full size kit will be needed.
2) Budget
The next question will likely be a budgetary one. If you're in the market for a junior kit, this is relatively easy as you're typically playing at the bottom of the overall price range anyway. Hopefully, my break down of cat
For full-size kits, budget becomes more of a factor as you can go nuts at your local drum store. At the lower end of the scale, my advice would be to focus on value and try to steer towards major manufacturers, as the space is pretty competitive and these companies like to vie for your attention to start building brand loyalty.
3) Longevity
Simply put, how long do you want to keep the kit? Your really low-budget kits are usually built using relatively inexpensive materials. While you will likely get a few years worth of good use out of them, they aren't a long-term investment. Spending a bit more money will usually result in a longer lasting kit, if not life-long.
4) Situation
The Beginner:
If the person who is going to be playing the kit is just starting out, there is absolutely no need to be extravagant as they may end up putting the sticks down as quickly as they picked them up. At the same time, don't shoot yourself in the foot by buying as cheaply as possible for two reasons:
Your purchase might just fall apart on you
Resale value is a thing! Yes, you can sell used drum sets and you'll likely retain a higher resale value if you buy a known brand name kit with decent build quality.
The Family Kit:
I think that the same rules above apply to this situation where you just want a kit around the house for the family to play on. This may also be an EXCELLENT situation to consider purchasing an electronic drum set as to preserve the sanity of the household when volume is not needed.
Light Gigging:
If you've gotten to the point where you are playing a few coffee shops once a month, you'll likely want to consider purchasing something which is a big more rugged, especially in the hardware department. Also, please don't buy a massive (i.e. heavy) kit. As a drummer, you'll always be the first one to load in and the last one to load out, mainly due to the amount of stuff you have to pack and carry. Do yourself a favor by not over-purchasing.
You're A Super Busy Pro Drummer:
If you are playing multiple gigs per week, or even per day – you will definitely want to invest some money into your kit. That said, traveling is hard on drums and especially their finishes. If you are going to be touring and recording a lot, spend some money on a good quality kit, but be careful not to get a finish which can be damaged easily (i.e. lacquer or paint).
The Kit Destroyer:
If you're in a band where the lead singer tends to like to trash gear, you'll want to make sure to buy a few of the cheapest drum sets you can buy.
What Else Will You Need To Buy?
I've already mentioned a few of these, but here is a complete list of the items you might be purchasing separately, depending on what type of kit you end up buying:
Cymbals:
Most beginner kits include a basic set of these, but you decide to upgrade anyway or you've selected a kit that doesn't include cymbals. Here are a few recommendations on some cymbal starter packs

.
Hardware:
By this I mean cymbal/tom stands, hi hat stands, pedals and any other piece of metal gear whose purpose is to hold something up for you to bash on.
Drum Throne:
Yep, it's called a throne, which is way better than 'stool', con't you think? There are a lot of options out there for drum thrones, including contour and whether it has a seat back or not.
Mufflers:
Whether you're just looking to eliminate some ring of your drums or just hoping to not make your neighbors mad, there are a variety of solutions out that that can either partially or almost completely mute a drum set and cymbals.
Other Accessories:
Metronome: There are a ton of options out there from inexpensive to ridiculously expensive. At the end of the day, you'll want something to keep time with.
Hearing Protection: Ear plugs are a go-to, but even better are noise reduction headphones you can plug into your fancy new metronome!
Sticks: If you're serious about drumming, it's likely you won't just stop at one pair of sticks, but also invest in some brushes various stick alternatives that are out there.
Stick Bags: Gotta keep all of those sticks together.
Drum Cases: If you're traveling a lot and gigging, cases (or bags) are a must have in order to protect your investment.
Here is a link to some accessories I recommend

.
Why You May Not Want The Fanciest Drum Set Starting Out
I mentioned this briefly in previous sections but especially if you're just starting out, you may not want to spring for the best or fanciest kit on the market. There is years of quality practice and gigging that can come out of a relatively inexpensive kit that is properly maintained.
That last part is key. Investing in better drum heads, good snare wires and bass drum beaters can help you make improvements in the sound of even the cheapest drum set.
Don't forget about hardware maintenance as well. Ensuring all of your cymbal stands have good felts on them and being sure not to over-tighten any adjustment points will help you keep your stands in tip top shape for years.
Lastly, invest in some education for yourself, specifically in the art of proper drum tuning. There are TONS of resources out there, including an entire section of this website devoted to drum sounds and tuning

. By learning how to properly tune and maintain your relatively inexpensive drum set, you'll get tons of enjoyment and longevity out of your investment.
Related Questions
What age is a Junior Drum Set for?
Junior drum sets are meant for players under the age of 10 and are essentially mini versions of the real thing. Body size has a lot to do with it though and so the exact ages typically aren't specified.
How much does Neil Peart's drum set cost?
Neil Peart, the infamous drummer from the band Rush was known for his pretty gigantic drum set (called the Time Machine), estimated to cost anywhere from $30,000-$50,000. It wrapped around him with only a sliver of an entry way and was a combination of acoustic and electric instruments. This kit likely cost Neil next to nothing though given his lucrative endorsement deals.