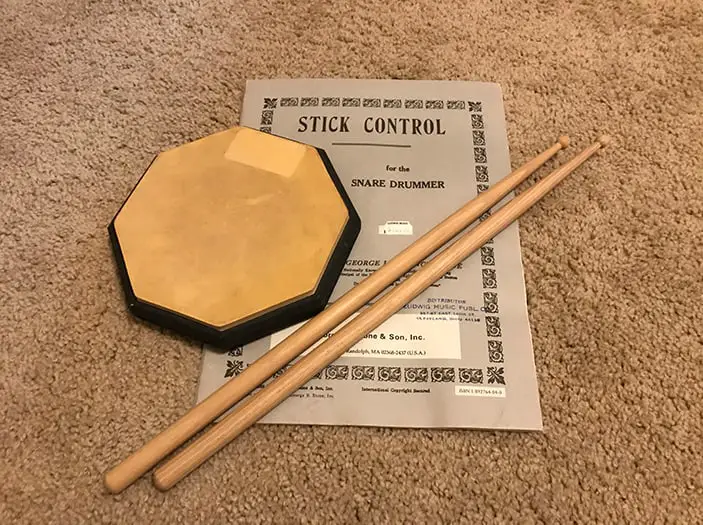 The question of cost is one which frequently comes up when parents first start inquiring about drum lessons for their kids. As it's so frequently asked, I decided to take my own experience as a teacher as well as research into current regional pricing and combine them into this article for you.
The average cost of drum lessons: between $30 and $80 per hour (updated for 2023). Various factors influence this price such as the tenure of the teacher, student proficiency and geographic location. In addition, you can expect to spend upwards of $50 for lesson materials such as books, sticks and a practice pad.
There are obviously a lot of factors that go into the average cost of a drum lesson, not to mention choosing the right instructor for your needs.
Factors Affecting The Cost Of Drum Instruction
Instructor Tenure & Reputation:
As with any teacher and/or skill, there are many different levels of mastery among drum teachers. There are those who've been playing a small handful of years and are good enough teachers to where they'll easily be able to teach beginners. These instructors tend to be towards the bottom of the pay scale.
Then there are those instructors who have literally spent decades honing their craft and are amazing players as a result. You'll likely be paying for those many years of toil and experience when it comes to your lessons with this teacher, but it may be worth it depending on your own level of musicianship. This category of teacher is likely not the best suited for beginner instruction.
Local Market Rates: 
Just as the cost of living fluctuates from city to city, so does the rate of music instruction. Studios and teachers in rural areas are likely to charge a bit less than those in major metropolises. The rates are also likely to vary from city to city as well and can largely be proportional to the cost of living. Drum lessons in the heart of New York City are likely to be much more expensive than those in Missoula Montana for example.
Student Proficiency:
The skill level of the student might play a factor in rates, primarily because the selection of qualified teachers will likely be narrowed down to the more tenured, more expensive teacher. Some studios like to operate on 'levels' as well, charging more per hour of instruction in higher levels.
Lesson Duration:
Especially for beginners, it is quite frequent to see a half-hour lesson as standard because an hour tends to be way too much instruction when just starting out. As you advance, you might start seeing hour-long lessons start to creep into your weekly routine. It goes without saying that an hour of instruction will usually be twice as expensive as a half-hour session. Some instructors and studios operate on a 45 or a 50 minute schedule. This gives teachers time in between lessons to take notes on progress and have a bit of a breather.
What Supplies Should You Expect To Purchase
If you or your kiddo are just getting started with drum lessons, there is likely an up-front investment you'll need to make for some supplies. I've listed the most common ones below:
Practice Pad ($20-$60):
Most beginning drum students will not start out by playing a full drum set. There are a whole host of 'drum rudiments', or basic rhythms which should be taught prior to transitioning to the drum set. Because of this, a beginner should be good to start playing on a practice pad. They can range from inexpensive Remo Tunable Practice Pads

(an old favorite), up into the $60 dollar range. My personal favorite are the RealFeel pads

made by Evans at just under $40.
Drum Sticks ($10-$15):
Need I say more? I've always been partial to Vic Firth sticks and for a beginner, a '5B' model stick is typically a good starting point. Most manufacturers make this model number of stick, though they do differ in feel from brand to brand.
Books ($10-$20):
There are about as many beginner drum books on the market as there are stars in the universe. The one you end up purchasing will depend highly on what your drum instructor will want you to get. THAT SAID, I'd be willing to bet that the recommended book will likely be 'Stick Control for the Snare Drummer' by George Lawrence Stone

. This book has been used for DECADES and is still incredibly relevant for teaching the basic building blocks of drumming.
Drum Set (optional) – $300-$500:
Especially if you or your child are just testing the waters with some exploratory lessons, there is absolutely no need to plunk down a few hundred dollars for a drum set. Once things get serious though, this purchase is likely to be inevitable. As such, I've written a whole article devoted to the best drum sets for beginners on a budget.

Choosing The Right Drum Instructor For You
Whether you're just starting out or are more advanced, choosing the right instructor can be a 'make or break' decision. It is very important to remember that sometimes the best drummer isn't the best teacher. Just because someone can throw down some amazing beats and fills, doesn't necessarily mean that they are qualified to teach you how to play…much less motivate you to keep playing.
That last point is very important, especially for beginning drummers. The best teachers for students just starting out on their percussive journey are those who don't routinely show off, but instead make the journey fun, engaging and motivating. If you find one of these teachers, hold on to them for dear life!
School vs Independent: One fundamental question which will help you narrow down your search is whether to go to a music school/studio or whether to seek out an individual who teaches either out of their own home or is willing to travel to your home for lessons.
The benefits of a music studio are that there are likely multiple teachers from which to choose and there is also usually a set curriculum that is followed. Most beginners tend to start in this type of setting.
Independent teachers are also great because of the relationship which is formed when either visiting or being visited by one of these teachers. It is quite common for independent music teachers to be a bit more expensive as they are also typically of a higher caliber player and teacher.
Reputation: Great teachers will quickly gain a reputation in the community for helping students excel. Don't be afraid to ask for references and check a teacher's relevant playing experience when evaluating where to start taking lessons. The playing experience factor may not be as important for beginners, however their references in relation to teaching style are huge.
Genre: There are some drum instructors which tend to focus on a specific genre of music such as rock, jazz or rudimental drumming. Aside from drum set, there is also a whole world of percussion out there including latin, orchestral and keyboard to name just a few. Be sure to ask around if you're looking for a specific genre or instruction on a certain type of percussion instrument.
Where To Find Teachers
Looking for a studio or music school is actually quite easy as Google tends to have your local academies nicely listed with customer reviews to boot! If you are looking for an independent teacher however, you are likely to encounter a tougher time.
There are so many place to look for local drum teachers that it can make your head spin. Luckily, most savvy instructors want to be found and will therefore place ads in various online communities. Below is a quick list of ideas for where you can start your search:
Thumbtack is a great 'marketplace' for many local services. Drum Lessons just happens to be a category which, in my area at least, is very well populated. It's great because you can also see customer reviews for each teacher listing and their lesson costs clearly listed.
TakeLessons.com is another site which lists teachers in your area with reviews. It's very similar to Thumbtack, just slightly more geared towards instruction/teachers vs all manner of different gigs.
Craigslist has been around FOREVER and hasn't really changed much since its inception. On it, you'll usually find ads placed by local drum teachers, though they won't be nearly as search-friendly as Thumbtack, nor will you be able to see customer reviews.
Related Questions
When Should You Start Drum Lessons? In my experience, students between the age of 6 and 7 have flourished as they're large enough to fit behind a drum and have developed enough patience to practice. I've taught kids as young as 3 and 4 years old but I feel strongly that this age is just too young.
How Long Does It Take To Become Decent At Drums? It is reasonable to expect that you'll be able to play relatively proficiently within 9-12 months of dedicated work. This assumes that you are likely taking a weekly, hour-long lesson and practicing diligently.