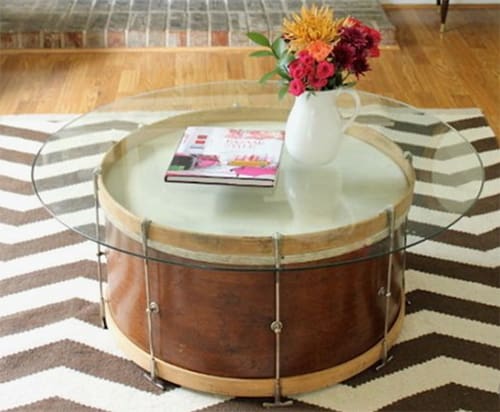 As a lifelong drummer, I've always had a few drums kicking around that were never used for their intended purpose. And there have been more than a few occasions where those drums have wound up as functional pieces of furniture in my home, which is why I decided to write this article to share some of my ideas.
Old drum sets provide an ideal opportunity because they are affordable, unique, and come in a range of sizes and colors, allowing you to customize them to suit your furniture needs and at a low cost. Some of the pieces of furniture you can create from old drum sets include:
Tables and Side Tables
Lampshades
Chandeliers
Wall Clocks
Shelves
Chairs
Pet Beds
Ottomans and Stools
Mirror Frame
A Portable Home Planter
Holiday Decorations
Wine Bottle Holder
Whether you have an old drum set lying around collecting dust or you're someone looking for a unique way to add decor and furniture into your home, using drums is an option you should seriously consider.
This article will give you several tips and act as a guide or source of inspiration to your project. Whether you're a skilled DIY enthusiast or plan on hiring someone to fulfill your vision, what follows are details of each item I've listed above. Enjoy!
Tables and Side Tables
This is probably the most common application for using drums as furniture, and yes – I did this in my own home years ago. The simplest way to turn a drum kit into a table would be to set a bass drum (without modifying anything) on its end where you would want a large round coffee table to be. Other, smaller drums can then be used to create small stools around the main table. It is will immediately create an eye-catching spectacle especially when placed in a spacious living area.
If you're short on space however, have the biggest (bass) drum as the only table and use the small and medium-sized toms as matching side tables in the living room or in the bedroom as night stands.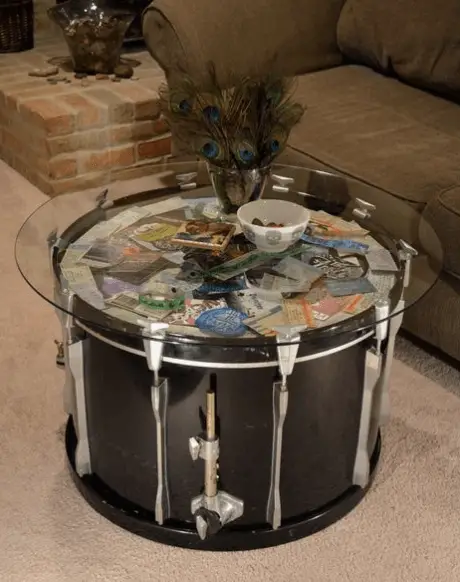 With this simple approach, there is the primary shortcoming that the top and bottom of a drum don't necessary form the smoothest surface. Not only that, but the colors may not match your house's decor. To this end, you may decide to ditch the drum heads entirely, repaint the shell and remove any extra hardware that may not be needed.
Then for a more traditional table top, you can opt to use a round piece of glass or wood which can simply be placed on top of the drum and held down by gravity.
Bonus Tip: If you really want to kick it up a notch, you can add further function to your piece by creating a storage shelf on one or two of the sides. This can be accomplished by carefully cutting a section of the drum (recommend an oval) and either adding padding or some form of platform to form a storage shelf below the table top.
Lampshades
You can add a bit of glamour and sophistication to your lamps by taking advantage of the shape and hollowness of a drum to create the perfect lampshade. The different sized drums can be used for different lights, from a single hanging lamp fixture on the ceiling to a tabletop reading lamp and bedside lamps.
The versatility of cymbal stands may also offer you a lot of options in customizing your lamp. As these stands were meant for versatility in setup, by turning it into a lamp you can create a lighting solution which you can adjust in height and configuration as your needs require. The chromed finish of these stands may also add a bit of 'bling' to your decor!
Chandeliers
If you have caught up the bug of integrating drums into your lighting fixtures, you shouldn't just stop at light shades but go the extra mile of creating chandeliers. You can set aside the big bass drum this time however and work with small and medium size toms instead.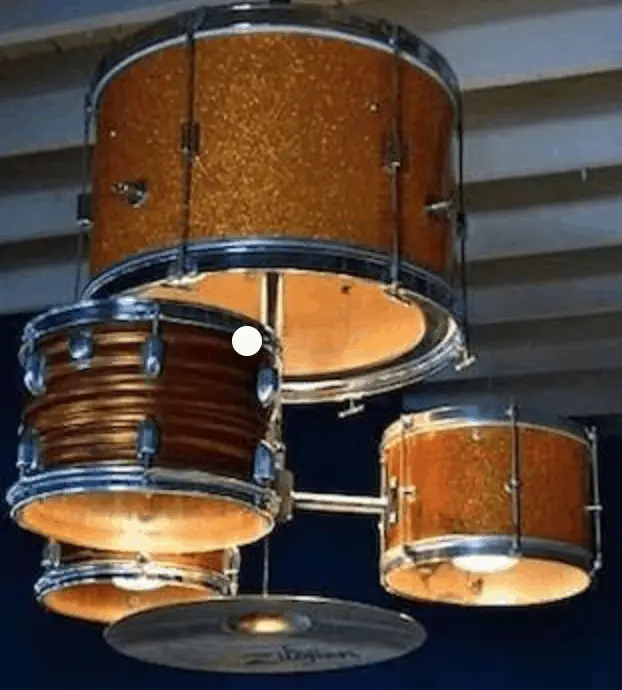 Letting drums with bulbs installed in them hang at individually but at slightly different heights can give you that full chandelier effect. You can also attach each drum to a central hanging rod, maybe even mimicking the classic arrangement of a drum set.
While the chromed hardware of the drum's hardware will help add a reflective, shimmery quality to your fixture, you may also want to experiment with removing the hardware from these drums entirely. You'll be left with drum shells with a fair amount of holes in them, which will pass light through. With bright enough bulbs, this will create a pattern of lights and create an additional effect on your walls.
You can also add cymbals to the mix, either as part of the chandelier or as a standalone piece. Arranging cymbals so their tops are facing down with the light fixture on top can create a very effective indirect lighting solution.
Wall Clocks
Even a single drum can add an element of art and uniqueness in your house. Instead of using standard frames made of either wood, plastic, metal or glass for your wall clocks, how about having a wall clock made from a drum?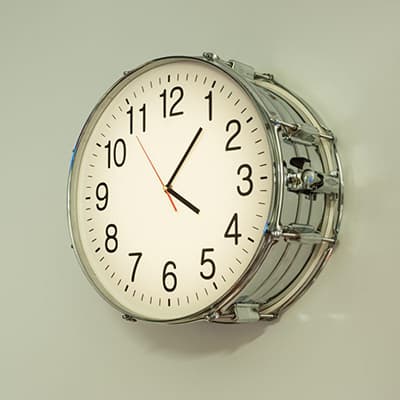 There are various takes to this idea. The simplest one is to add a clock face and mechanism to one of the drum heads. These clock mechanisms can be easily attained online

or in a hobby shop. If you're super creative, the numerals of the clock can be painted on the head drum head in their appropriate positions. Otherwise, vinyl decals can be found on marketplaces such as Etsy for relatively little money.
Other versions of this could include cutting the drum shell in half, which solves the problem of having a deep drum clock protruding from your wall. You can also make a version of this clock with simply a drum head and hoop, eliminating the need for the drum shell itself!
Shelves
Storage space is always an issue regardless of the size of your home. Shelving can take up a ton of space and have an impact on your interior decor. By utilizing old drums as shelving, you can combine your love for the instrument with practical storage, while easily creating extra space along the walls for your flowers, books, small speakers, keys and other stuff that would otherwise clutter your space.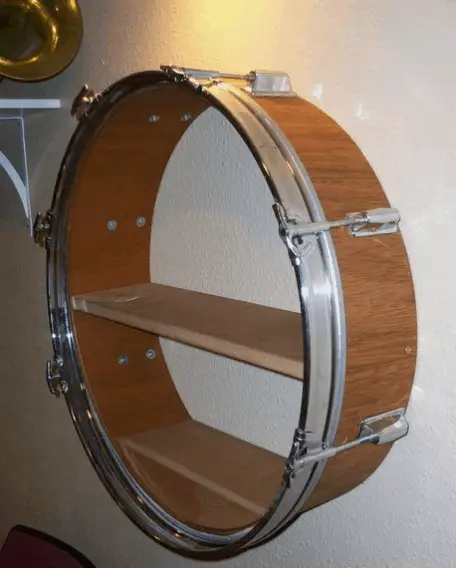 Various methods exist for constructing these shelves including using the drum head as a horizontal surface with the shells literally just bolted to the wall, or cutting the shells in half vertically and using a piece of glass or wood as the horizontal surface.
As always, you can get creative and add mini partitions in the drums on the wall for further storage space. Where possible, you can cut the larger drums to fit a corner space in the living room or bedroom and turn it into a bookshelf or a lockable cabinet. The options are really endless.
Chairs
Tables and shelves are not the only piece of furniture for everyday use you can get from drums. You can fashion incredibly comfortable chairs from the drums you have. Most likely, you'll be looking at bass drum or floor tom sized drums to make this work.
Get the drum resting on its side and cut a rectangular shaped hole large enough to hold a seated adult. Make sure you cut it in such a way that you leave a raised portion of the shell on both sides to act as armrests. I would recommend marking it out with masking tape or a sharpie first.
Next, add a sturdy wooden base before proceeding with standard upholstery practices to make the cushion: use a piece of high-density foam and cover it with your choice of fabric, using staples to affix it.
You can also create a backrest by cutting a second wood piece to fit the space. Add matching upholstery and you'll be set.
Lastly, you'll have several options for the legs of your new chair. The easiest option is to plan the placement of your opening carefully so that you can use the existing bass drum spurs to keep the chair in place. Alternately, you might consider constructing a wooden frame for the drum chair to rest in. This has the advantage of giving you a bit more height as well.
Ottomans And Stools
Ottomans have withstood the test of time, remaining relevant and useful pieces of furniture in the household since the Ottoman Empire (get it!?). This is largely due to their versatility as footrests, stools to sit on or a handy place to keep your stuff.
The various drums' dimensions mean that you can get an ottoman that will fit in well – adding function and aesthetic appeal to your home. They also do not take up much space.
To turn your drums into ottomans, you'll want to follow similar steps as when creating a chair, only this time I won't ask you to cut into the shell. Start by removing one of the heads and hoops (though you can remove both if you'd like). Next, you'll need a piece of plywood cut in a circle that's the same or slightly larger diameter than that of the drum. Lastly, upholster this top with padding and your favorite fabric.
Similar to ottomans, you can also create stools from drums, excellent for use in the kitchen or the living room. The process is the same only that with stools, you have more variety on the kind of top you want as a hard top or tractor seat could definitely work for you to sit on. Examples of different stool tops might include wood, cloth, leather or the recycled top from another old stool.
You will want to consider the height of your stool depending on where you intend to use it. You might consider building a stand or frame for your new drum stool to rest on and give it the appropriate height for your application.
Pet Beds
Scruffy is probably not a drummer, but that doesn't mean he can't sleep in one! Besides serving decorative embellishments to your pet's place of sleep, drums can withstand the abuse from the pets and are easy to clean and maintain. There are different approaches to how this can be done and it largely depends on the size of drums and pet(s) you have.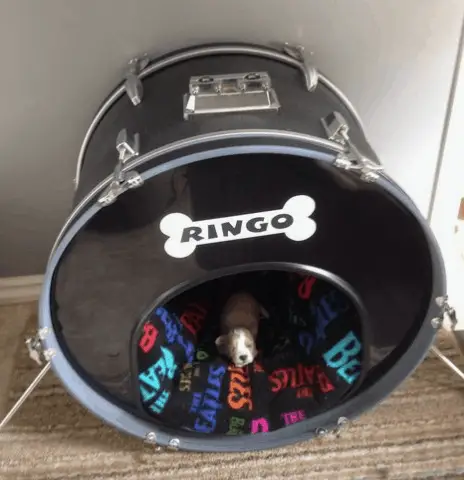 You have two main options for how to configure this new pet bed:
Lie the drum on its side so that the top or bottom of the drum serves as the opening. You can choose to either leave one of the drum heads on, or take both off and just scoot one end of the drum towards a wall.
If you plan on placing the drum on its top or bottom, you'll likely want to cut a notch in the shell to allow the pet entry and exit from the bed. in both scenarios, add a padded pillow or blanket, and you're all set!
Large dogs, or in the case where space will be shared will require a bass drum. Smaller pets can work with medium sized drums. If you're using a larger drum for two or more pets, you might consider building some sort of partition in to the shell so that each pet can have their own space.
Mirror Frame
Have a glass company cut a piece of mirrored glass in a circle that is slightly smaller than the circumference of your drum. This will allow you to then mount the glass on one of the drum's heads. I would recommend using construction adhesive to ensure it is properly attached. Alternatively, you can likely also find a means of mounting the glass with various fasteners.
If you are building a small mirror, I might recommend using a tom with its mounting hardware still attached. This way, you could use a tom stand to actually hold the drum mirror while also giving you the flexibility of adjustment! For larger mirrors, wall mounting will likely be a must.
In both scenarios (but especially for wall mounting), you might consider cutting the depth of the drum shell down so as to keep the mirror's profile to a minimum.
Portable Home Planter
Not everyone has a green thumb, but I think everyone should have a few plants around the house. As a drummer, why not use an old, un-playable instrument and turn it into a planter!
Drums are structurally ready to accept soil and plants, however you might consider sealing the wood with something prior planting as a couple of years' worth of watering will likely seep into the shell and ruin it. A polyurethane or even plastic lining will do the trick.
Next, you'll want to think about drainage as water will need a place to go after it's done its thing. I would recommend de-tuning the bottom drum head, cutting 1 to 3 evenly spaced holes in the bottom head and then returning the tension to the head.
Fill it with soil, add your favorite plants (succulents would look great) and voila! A nice drum planter ready for your coffee table.
Holiday Decorations
Admittedly, this may be a bit of a stretch – but I wouldn't put it past any devoted drummer to incorporate their craft into holiday decorations. Besides, Christmas trees have gotten mighty expensive over the years.
For the holidays, you can create a Christmas tree by simply stacking a few drums, wrapping some garland around them and lighting it! Or how about a tom-tom Menorah?
Birthdays and other holidays like Easter can get the same treatment just with different accents. You can even create a drum kit snowman!
Wine Rack
Whether you're a casual wine drinker or an avid collector, you'll need to have a great place to store them instead of lining your countertops with them. Sure, you may want to go out and get a wine rack but why waste the money when you've got a few extra, perfectly good drum shells kicking around?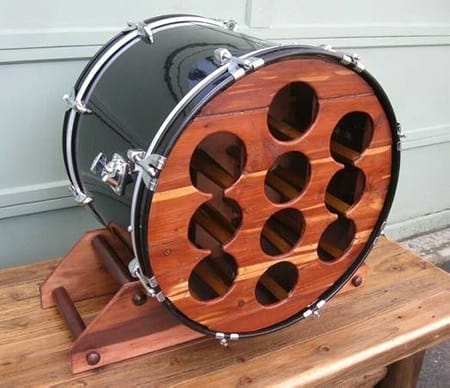 With a bass drum or a couple of the medium-sized toms, you can create an elegant and portable wine bottles holder. Position your drum (with at least one drum head off) on its side. Then simply start stacking your bottles horizontally.
This simple solution has one down side: you can't easily read the labels of your bottles. If you're feeling extra crafty however, why not add partitions to the inside of the shell so that you can easily slide each bottle out individually.
Conclusion
These are just some of the straightforward things you can do with a drum kit. You are really only limited by your imagination!
There are more other options of what you can achieve by repurposing old drums as part of your home furniture. Few things beat the joy and satisfaction of a great DIY project well executed. The durability and polished look of drums, as well as their versatility, means they are a great choice for sprucing up your house with creative furniture pieces. In case you do not want to buy you can always opt for readymade drum furniture from various online sources.
Related Topics
Where to buy inexpensive used drums: There are certainly bargains to be had out there, especially if you're not intending to use these drums as musical instruments. Local flea markets, Craigslist, eBay and pawn shops can be a great place to score some of these deals. In order to buy cheaply, it is important to look past the dust and dirt however, as you'll be able to clean them up after purchase.